BLAZBLUE: CROSS TAG BATTLE SPECIAL EDITION RELEASING APRIL 26 FOR XBOX & WINDOWS
Torrance, Calif. – April 18, 2023 – Arc System Works America, Inc. has announced the upcoming April 26 (5:00 PM PT) release date for BlazBlue: Cross Tag Battle Special Edition on Xbox Game Pass, Xbox Series X|S, Xbox One, and Windows PC at the price of $49.99.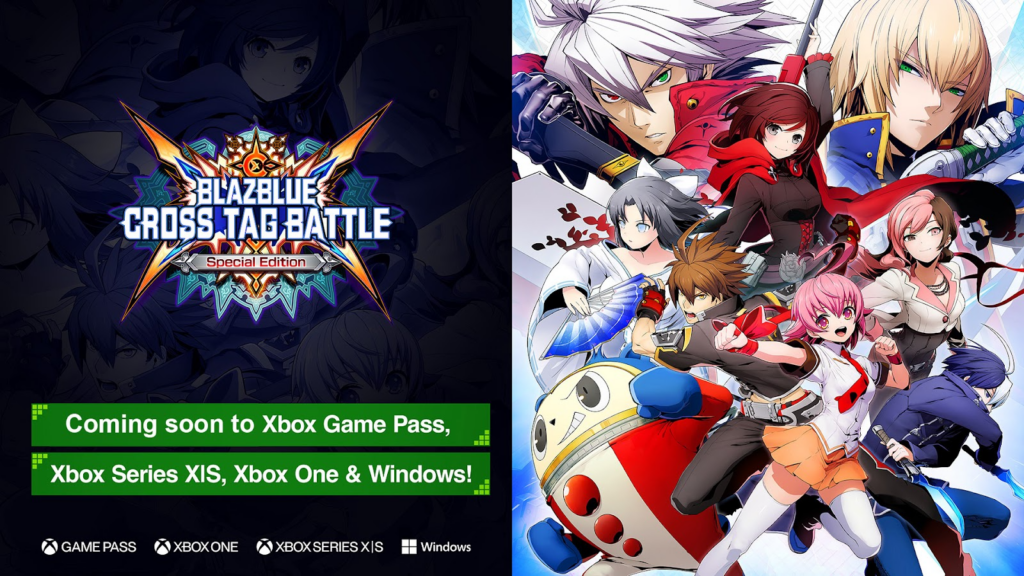 BlazBlue: Cross Tag Battle Special Edition will give Xbox and Windows players the opportunity to create their own dream team from a tag battle crossover of characters, including favorites from BlazBlue, Persona 4 Arena, Persona 4 Arena Ultimax, Under Night In-Birth, Arcana Heart 3 LOVEMAX SIXSTARS!!!!!! XTEND, Senran Kagura: Estival Versus, Akatsuki Blitzkampf, and RWBY. Through the Special Edition, players will receive the base game of the popular 2D fighter, plus its 2.0 update and all previously released DLC.
Don't miss your chance to delve dimensions, duke it out, and create chaos in this dream team tag-team slugfest! For more information, please visit the Arc System Works website (link).
About BlazBlue: Cross Tag Battle
BlazBlue: Cross Tag Battle brings you dream matches between the stars of popular titles BlazBlue, Persona 4 Arena, Under Night In-Birth, Arcana Heart, Senran Kagura, Akatsuki Blitzkampf, and RWBY in a 2D fighting game! Grasp for victory with your own original tag-team! BlazBlue: Cross Tag Battle is out now for PlayStation®4, Nintendo Switch™, and PC via Steam®. The Xbox and Windows Special Edition versions will be released on April 26, 2023. For more information, please visit the BlazBlue: Cross Tag Battle homepage at: https://arcsystemworks.com/game/blazblue-cross-tag-battle/
# # #
About Arc System Works America
Arc System Works America (ASW America), the North American branch of Arc System Works, is the premier publisher and developer of the widely popular Guilty Gear and BlazBlue franchises. Deep rooted in the communities it builds, ASW America strives to bring unforgettable experiences to its passionate fanbase. https://arcsystemworks.com/
Copyright notice: © ARC SYSTEM WORKS