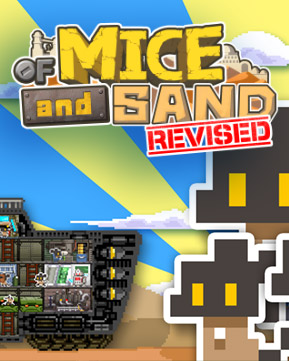 Of Mice and Sand -REVISED-
Buy now
Overview
On a desert planet in the farthest reaches of space, mice await your command! Direct their mobile fortress, and seek the legendary city of gold!
Navigate the Dunes in Search of Treasure
Intriguing items await your discovery in the scorching sands. Steer your ship from settlement to settlement, filling it with riches.
A Deep and Addicting Crafting System
Add a factory, workbench, lab, and other such rooms to your ship, and turn your scavenged materials into rarer items and make food for your mice. Sell crafted items at settlements to raise funds for more thrilling adventures!
Customize and Build Up Your Ship
Create more than just rooms for crafting: Sleeping quarters so your crew can catch some Zs, or maybe even a jukebox to give them a boost. Build powerful weapons to keep desert hostiles off your back. Utilize crafted items to build a variety of rooms and enhance your ship.